High Capacity Egg Washers
From leading manufacturer KUHL Corp.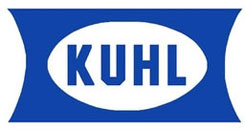 Kuhl Corp are the worlds largest manufacturer of egg washing equipment, based in New Jersey, USA. The company was founded in 1909 by Paul H. Kuhl.
Kuhl produce egg washers that:
Wash,

Brush clean,

Sanitize,

Rinse, and

Blow dry your eggs.
Egg washing with Kuhl egg washers enable the egg farmer to produce the greatest number of saleable clean eggs.
Kuhl egg washers are available for installation with all types of egg graders, from:
 2-row egg infeed (3,600 eggs/hr); and up to
24-row egg infeed (110,000 eggs/hr).
Kuhl egg washers can be used with Riva Selegg, Moba, Staalkat or Diamond egg graders.